About Dr. Brenda
Brenda Brueske, D. C. or
Brenda Brueske Kolve (full name)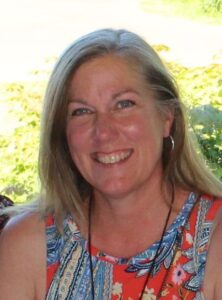 Raised in the Twin Cities
Pre-chiropractic at St. Cloud State University
1993 graduated from Northwestern Chiropractic College with a Doctor of Chiropractic Degree
1993 began career as a chiropractor in La Crosse
Successfully built and maintained a practice in La Crosse/Onalaska for 15 years
January, 2008 – moved "up north" to live full-time in her cabin in Cable.
March, 2008 – Opened Practice in Cable.
Personal
President of CARE(Cable Area Resorces in Emergency). Organizes the monthly community dinners and the July 4th CARE Run/Walk.
President of Clam Lake Forest Riders Snowmobile Club
Organizes a monthly wine club with friends which includes wine and food pairings.
Hobbies

Bow hunting for deer, bear, & elk
Bicycling and running
Golf
Snowmobiling
Cross Country Skiing & Snowshoeing
Reading

Children of the 4-legged variety – Trooper & Khaleesi